The AR390SS model is their most powerful and quite popular among homeowners looking for an electric washer to tackle medium-heavy duty tasks, such as washing cars or cleaning up after construction projects. It's also great for light-medium duty tasks but falls short on heavy-duty grime.
This article will discuss the pros and cons of this product so you can decide if it's right for your needs. So. Let's jump in and do the AR Blue Clean AR390SS review.
Last update on 2023-09-17 / Affiliate links / Images from Amazon Product Advertising API
Why Do We Like It
Easy to set up

It's simple to shift from one place to the next

A stainless steel lance

Professional gun

Four pressure nozzles (0 degree, 25 degrees, rotary, and soap)

30-foot hose

Functioning Hose Storage Reel

35-foot electric cord with quick release and GFCI

The detergent tank is built-in and intended for storing soap and other liquids.

This device's water consumption is roughly 80% lower than a typical garden hose.
Why We don't like it
Plastic hose reel

A little bit heavy
Specs
2,000 PSI

1.4 GPM

14 Amp 1.6 HP universal motor w/ tri-axial pump

Four quick-connect nozzles

Swivel cord

Hose reel for storage

48 oz. detergent tank

Automatic shut-off

1-year "bumper-to-bumper" warranty
Product Dimensions
Height: 17 inches

Length: 16 inches

Width: 38 inches

Weight: 34 pounds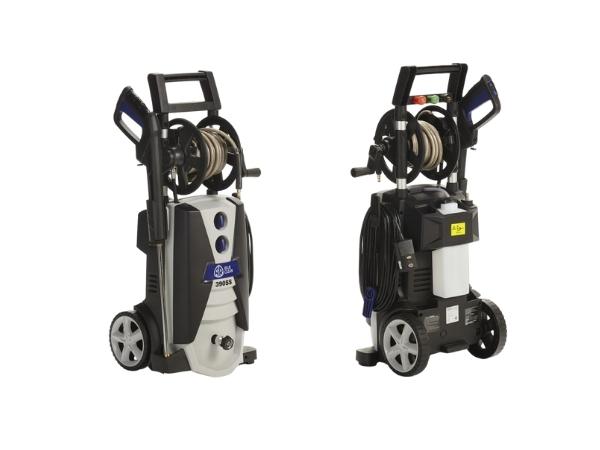 The Pressure Washer Unit

4 quick-connect nozzles (0, 25, soap and rotary/turbo)

30-foot hose

35-foot power cord

Swivel cord

Hose reel for storage
It's simple to assemble this machine. Here are the required actions:
Attach the high-pressure hose to the spray gun.

Turn the spray wand on by pushing it into the gun; turn it clockwise as you do so.

Attach the garden hose adapter to the pump end of your garden hose, then attach the adapter to the pump inlet.

Ensure the spray gun's safety tab is activated (squeeze trigger to check).

Plug the power cable into a grounded 120V outlet and push the reset button. Remember: Each time you plug the power cord into a socket, you must press the reset button.

Switch on the water supply.

Push down the safety tab to unlock the trigger.

Squeeze the trigger to release air from the spray gun and allow water to flow.

Turn on the machine's power switch.

You're now ready to clean!
We recommend wearing hearing protection while working near this machine, especially if you're doing it for long periods.
Customer Support And Warranty Policy
One of the most client-friendly services in the industry is AR Blue Clean. They also received an award for Best in Class Customer Service, and they deserved it.
First and foremost, they deliver excellent response rates and value customers throughout the process. In addition, they are accessible at all times for any questions, and customers appreciate this.
They provide a one-year bumper-to-bumper warranty. Make sure you register the item on AR Blue Clean's website after completing your purchase to receive the finest assistance. Phone or email help is available to consumers in the United States.
Operating Tips and Maintenance 
It's not unusual for the motor to run when the trigger isn't being squeezed. The 

pump

 is priming itself to operate when the trigger is activated. After five minutes, turn it off if you don't need your power washer.

The bayonet o-rings should regularly be cleaned and greased with non-water-soluble grease like petroleum jelly.

Keep the cleaning wire, which is attached to this handbook, for unclogging the lance nozzle. If you lose the cleaning wire, a folded paper clip will suffice.
What Can You Clean With Blue Clean AR390SS?
The new AR Blue Clean AR390SS pressure washer can clean your patios, decks, driveways, house siding, and other dirt, grime, mold, and discoloration from your outside yard and garden areas. AR390SS is also perfect for cleaning cars, heavy types of machinery like tractors, similar items, or anything with a motorized engine.
Besides, AR390SS is the best choice to clean soiled grass from tools, accessories, equipment covers, lawnmowers, golf carts, bicycles, outdoor furniture, grills, or anything that moves. It can also handle cleaning dirt from your home exteriors like siding, concrete walls, or floors.
AR Blue Clean AR390SS generates a powerful high-pressure spray with ease and saves you time and effort. It allows you to clean surfaces of any kind in less than half the time it usually takes.
AR390SS also allows you to clean more efficiently overall, removing more dirt and grime quicker while requiring less effort.
I hope my AR Blue Clean AR390SS Review has assisted you in making an informed selection. If it's medium-duty jobs that are needed, then the AR390SS is a perfect choice for your needs!
This product will maintain and improve the appearance of your house or business. This pressure washer may not be ideal for heavy-duty tasks, but if all you need to do is take care of lighter messes around the house, it should be more than enough.
For anyone who wants to know about their options before buying, reviews like these can help inform them on what might work best with different projects. So don't hesitate to check out my other reviews too!
What is the difference between the AR383, AR383SS, and AR390ss?
There are three variants, each with slightly different displacement: the 383, the 383ss, and the 390ss. The 383 is a more traditional model than the 393SS. The 390SS is the most recent version, which is more potent than the 383SS.
Is it possible to use hot water with this?
Unfortunately, the AR390SS was not designed to be used with hot water. It will cause the high-pressure pump to overheat and break down. But the manufacturer produces two other electric hot water pressure washers, the AR630-HOT and the AR630TSS-HOT. They are specially made to serve commercial tasks. 
Is there a detergent supplied with this kit?
It's not included with any detergent. Instead, you must select the best cleaner for your job and purchase a suitable one.
Is there any way I might use them as a garden spray?
This machine is suitable for cleaning windows, walls, and roofing, but I don't think using it as a garden spray is good because of its high pressure.
Shop Related Products
Last update on 2023-09-15 / Affiliate links / Images from Amazon Product Advertising API
Last update on 2022-07-10 / Affiliate links / Images from Amazon Product Advertising API