If you need a power washer for your next project, the Generac 7122 SpeedWash is worth considering. This gas pressure washer has 3200 PSI and 2.7 GPM of water flow, with a 196cc engine that powers it on demand.
The 8640 total cleaning power means this machine can easily handle any job, from large outdoor to small indoor jobs.
Let's take a look at the Generac 7122 SpeedWash review and some of its advantages and disadvantages!
Last update on 2023-09-17 / Affiliate links / Images from Amazon Product Advertising API
Why We Like It
The spray is highly concentrated. It's a quick fix for any of your toughest grease and grime, as well as the previous paint that you want to remove.

A 30-foot hose is sufficient for cleaning most of your cleaning areas.

Changing the nozzles is pleasant and straightforward.

It's also ergonomically-optimized, making it enjoyable to use. The spray gun has a non-slip handle, so you don't hurt yourself while using it.

It's small and portable due to its built-in storage.

Sturdy construction and ease of use on rough terrain and stairs.
Why We Don't Like It
A little bit noisy

It can take several pulls to start the engine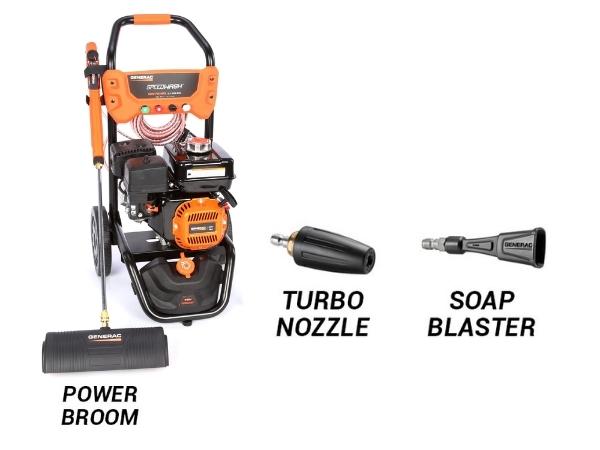 The pressure washer unit

Soap blaster

Power broom

Turbo nozzle

Owner's manual

Warranty sheet
Generac 7122 SpeedWash Features
This machine has a 3200 PSI water pressure and a 2.7 GPM water flow rate.

Its turbo 

nozzle

 cleans dirt and grime 30% faster, and its detergent sprays detergent 3x quicker.

It is driven by a 196cc OHV engine with a manual/recoil starting option.

A durable, 30 feet-long high-pressure hose that is kink-free and non-marring will be delivered.

The nozzle kit will include four quick-connect nozzles with 0°, 25°, 40°, and a soap applicator angle.
As you can easily infer from the Generac firm tagline ("Our business is power"), this firm isn't kidding about producing reliable power tools.
Generac was established in 1959 as a firm that specialized in designing and manufacturing generators, particularly those intended for household usage. Generac gradually but steadily rose to the top spot in the home standby generator industry, pioneering this market.
Generac 7122 SpeedWash Review
Power
Generac 7122 SpeedWash is a gas-powered pressure washer with an impressive 3200 PSI, 2.7 GPM, and 196cc Generac engine. In addition, this power washer has some additional features to make cleaning easier for you.
The 3200 PSI power output means its cleaning power is 8640, which will help you easily clean the surfaces of your home. You can use this unit as a spray wand or a surface cleaner and attach it directly to your garden hose.
Onboard Detergent Tank
The onboard detergent tank will allow easy cleaning without completely separating the machine when you need to clean out debris inside the pump housing.
Flexible
This model's most outstanding features are its flexibility and ability to be used as a spray wand or a surface cleaner. You can also attach this unit's hose directly to your garden hose to save time when using it at home.
Quick Maintenance
The other great feature of this pressure washer is the onboard detergent tank. That allows for quick machine maintenance without taking it apart completely every time you clean out all the dirt and debris inside the pump housing!
Lightweight
Finally, this unit is very lightweight. You can transport it to places that you need to clean by yourself with ease!
Setting Up Generac 7122 SpeedWash
How To Use Generac 7122 SpeedWash
For three years after the original sale, Generac Power Systems, Inc. will honor the warranty.
A pressure washer will last a long time. However, it is crucial to maintain your pressure washer to extend its lifespan properly. Here are some tips on how to do so:
-Store your pressure washer in a dry and protected area when not in use.
-Never leave gasoline sitting in the tank for more than 30 days.
-Change the oil regularly according to your pressure washer's manual.
-Keep the spark plug clean and free of carbon build-up.
-Inspect the hoses regularly for any cracks or leaks.
-Finally, winterize your pressure washer if you live in an area with freezing temperatures.
By following these simple tips, your machine can last longer than expected.
Keep In Mind
Read the instructions carefully before using your machine to ensure that it's in proper functioning order.
Read More: Generac Power Washer manual 
Similar Product in the Market
Last update on 2023-09-21 / Affiliate links / Images from Amazon Product Advertising API
Generac power washers are the best choice for your home's cleaning needs because they are powerful, portable, lightweight, and easy to use. 
I hope this Generac 7122 SpeedWash Review made you decide your purchasing decision.
Question: How long do Generac pressure washers last?
Answer: Generac pressure washers are one of the most cost-effective machines available for the price. With a gas engine's durability in mind, you may expect a Generac machine to last ten years or more if properly maintained.
Question: Are Generac pressure washers made in the USA?
Answer:  The famous line of home pressure washers from Generac, designed and produced in the United States, offers industry-leading performance at an accessible price.
Question: Who makes Generac engines?
Answer:  Generac's G-FORCE and OHVI engines are produced by Generac Power Systems Inc. at their facilities in Wisconsin. The Generac OHV engines are not developed or manufactured in the United States.
Last update on 2022-07-10 / Affiliate links / Images from Amazon Product Advertising API