Pressure washers are ideal for cleaning driveways, decks, and patios.

You can also use them to clean cars, boats, and RVs.

There are a variety of pressure washer brands on the market – what should you look for when choosing one?

Some factors to consider include power output, water flow rate, and hose length

Price is another important consideration – ensure you find a pressure washer that fits your budget.

Finally, read reviews from other customers to get an idea of how well the pressure washer performs.
It's no secret that we all have our favorite brands when shopping for new tools. However, there are some best pressure washer brands that you might not recognize unless you've been in the market for one recently. We'll help you determine who to trust and which company to utilize based on your needs!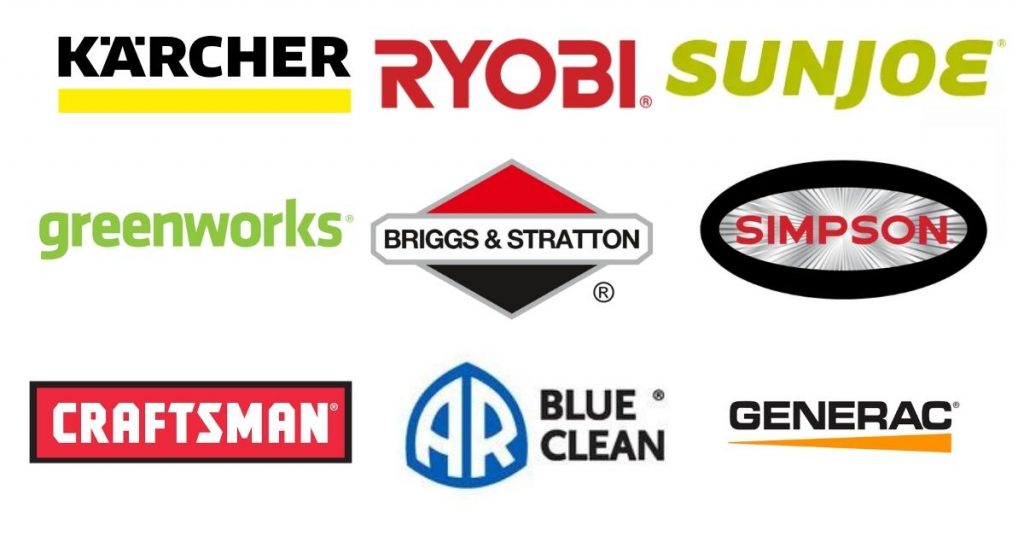 Pressure washers come in a variety of brands. Some offer high-quality goods, while others source inexpensive imports to make money. We've hand-picked the ones we think are the finest in each category based on product quality, customer service, and personal experiences.
Karcher

Ryobi

Sun Joe

Briggs and Stratton

Simpson

Greenworks

Generac

Craftsman

DEWALT

AR Blue Clean
Let's focus on each of these companies in detail.
The Alfred Kärcher SE & Co. KG corporation is a German family-owned company worldwide. They produce high-pressure cleaners, floor care products, cleaning parts equipment, wash water treatment, window vacuum cleaners, etc.
In 1950, Karcher invented the first modern hot water high-pressure washer. Karcher is the acknowledged leader in pressure washing products, with models available in all categories, including commercial, industrial, semi-professional, at-home use, and even electric and gas-powered versions.
Pressure washer models from Karcher are robust, efficient, and innovative.
Best Pick from Karcher: 
Last update on 2023-12-09 / Affiliate links / Images from Amazon Product Advertising API
In 1968, Ryobi began producing power tools, but they didn't start selling pressure washers until a few years later. It doesn't matter since they are the business's most popular pressure washer brand today. Thanks to their connection with Home Depot, their popularity is rising.
Ryobi is great for homeowners into DIY projects, but they also offer commercial pressure washers.
Ryobi offers a wide range of products that can meet most people's needs in terms of features.
All in all, Ryobi is a trusted pressure washer brand.
Best Pick from Ryobi:
Last update on 2023-12-09 / Affiliate links / Images from Amazon Product Advertising API
The firm's name, Sun Joe, was founded in 2009, and the business is still relatively new. Sun Joe specializes in small and light pressure washers designed for homeowners.
The company has received praise for its Sun Joe SPX3000 model. This handheld electric pressure washer offers enough power for light cleaning.
Sun Joe has a good reputation for providing excellent customer service.
Best Pick from Sun Joe:
Last update on 2023-12-09 / Affiliate links / Images from Amazon Product Advertising API
Briggs & Stratton is the world's biggest maker of small engines for power equipment used outside. In addition, they produce high-quality, commercial-grade pressure washers that are durable and reliable. Although Briggs & Stratton doesn't have a "household" brand name, their pressure washers are top quality and reliable.
Best Pick from Briggs & Stratton: 

Last update on 2023-12-09 / Affiliate links / Images from Amazon Product Advertising API
Simpson is a well-established and renowned American business. Unlike other producers, they sell pressure washers and manufacture their equipment in-house.
Their primary focus is on producing commercial-grade pressure washers while keeping the prices reasonable. For this reason, they have an excellent reputation and are very popular among professionals.
Best Pick from Simpson: 
Last update on 2023-12-09 / Affiliate links / Images from Amazon Product Advertising API
Greenworks is a relatively new brand, but they have made big waves in the power tool industry. In addition to pressure washers, Greenworks manufactures lawn mowers, snow throwers, chainsaws, and more.
Greenworks pressure washers are reliable and very cost-effective.
Although their goods are excellent, they appear to have a customer service issue.
Best Pick from Greenworks: 
Last update on 2023-12-09 / Affiliate links / Images from Amazon Product Advertising API
You might already be familiar with Generac since they are the market leader in generators. They have a lot of expertise in developing pressure washers, as it turns out.
In 2011, their reputation as a brand made their gas products a fast sell, and they've remained popular ever since.
Generac has models for both at-home and professional use. Most Generac pressure washers are very reliable.
Best Pick from Generac: 

Last update on 2023-12-09 / Affiliate links / Images from Amazon Product Advertising API
As you probably know, Craftsman is Sears' house brand. They produce extensive tools and appliances for home use and work.
They have many pressure washers to select from. In addition, cost-effective, high-quality products appeal to different consumers.
Their models are reliable and offer great value for the money.
Best Pick from Craftsman: 
The DeWalt name is a brand trademark owned by the Stanley Black & Decker Corporation. Simpson granted them a license to make their pressure washers under this agreement.
DEWALT is a world leader in the power tool industry, and they are among the finest when it comes to pressure washers.
They have various pressure washers for both commercial and residential use. Customers praise their DWPW2400 model as easy to assemble and lightweight yet durable.
Best Pick from DEWALT:
Last update on 2023-12-09 / Affiliate links / Images from Amazon Product Advertising API
Sixty years of expertise in the high-pressure pump sector has earned Annovi Reverberi (AR) a reputation for quality and innovation. AR is a well-known brand and business with a wealth of accumulated knowledge, customer focus, and desire for product excellence.
This brand makes various models, all geared toward the needs and budgets of different customers.
Most users praise AR383 as being powerful yet easy to use.
Best Pick from AR Blue Clean:

Last update on 2023-12-09 / Affiliate links / Images from Amazon Product Advertising API
Each of the above companies can be trusted. Whatever you purchase from, the buying experience should be pleasant.
Most Searches Pressure Washer Brand on Google Each Month
The Best Pressure Washer Brand: Winner!
Today, Ryobi and Sun Joe are the most popular pressure washer brands, surpassing Karcher. Because both companies have grown more powerful in the business, they can now produce high-quality equipment for residential and commercial use.
Their units are convenient, affordable, and effective. Customers praise them for being well-built machines that are easy to use yet efficient when in use.
If you want a dependable, convenient, and cost-effective pressure washer brand for residential use, check out Ryobi. It has all these qualities and more.
If you're looking for a pressure washer brand for commercial use, go with Sun Joe instead. Their units are sturdy and built to last, making them ideal for professional usage.
However, remember that Ryobi and Sun Joe are not the only companies providing these products. Other firms are also quite popular and maybe just as dependable and efficient in certain circumstances.
Regardless of what pressure washer you choose, always remember two things: proper maintenance and upkeep are essential to extending the unit's lifespan. So be sure you know what you're doing before attempting a DIY pressure washer repair.
When Choosing A Pressure Washer Brand, What Should You Consider?
Years in the business
It will help if you look for a company with a long operation history. In addition, they must have enough experience and skills to work on the pressure washer.
Popularity
How many people are using their product? The more users they have, the more popular it is and the better performance you can anticipate from their pressure washer.
Consumers Review
Positive reviews can help you decide. But, of course, you should read the bad feedback as well, so you'll know if the consumers are pleased or not.
Engine type
It's essential to understand what engine it is and how powerful it is. Look for a gas engine if you want a pressure washer for commercial use. However, it would help if you went with an electric or battery-driven pressure washer for residential use.
Price
The price of a product is essential. You do not want to buy an expensive product if you can afford something cheaper.
Warranty Policy
A warranty policy is a big thing. It's like an assurance for your pressure washer, so you know it will work well even with some issues. So check for this one before purchasing a pressure washer.
See how long it is and any limitations on the warranty.
I hope this article will help you decide which brand of power washer will best suit your requirements.
Continue reading our blog for more information on selecting the most delicate pressure washer type for your needs.
Which is the best-selling pressure washer on Amazon?
Last update on 2023-12-09 / Affiliate links / Images from Amazon Product Advertising API
Last update on 2023-12-09 / Affiliate links / Images from Amazon Product Advertising API