Simpson Cleaning MSH3125 MegaShot Gas Pressure Washer is perfect for homeowners looking for a heavy-duty machine that can handle any cleaning task.

The Honda engine provides ample power and performance to finish the job quickly.

You can use this machine for a wide range of applications with a variety of nozzle tips.

The compact design makes it easy to store in a small space.

The price is very affordable compared to other machines of this caliber.
Product reviews are a great way to provide unbiased opinions and information about a product. Simpson MSH3125 Review is no exception!
This review will cover the pros and cons and what makes Simpson MSH3125 unique from other pressure washers on the market today.
There are many reasons why Simpson MSH3125 might be right for you: it provides high-quality cleaning power; it has an ergonomic design that feels natural in your hands; it's easy to use; and more!
We'll explore all of these benefits below, so keep reading!
Jack Simpsons began developing the first SIMPSON pressure washer in 1961 as the co-owner of an industrial cleaning and painting firm. Pressure washing technology gave Jack's staff a clear edge. As a result, they began to be recognized as offering higher-quality work at a lower cost than their competitors.
Regarding quality and performance, SIMPSON is the undisputed leader in the pressure washing industry. With over 60 years of experience, they have learned a thing or two about how to make a great pressure washer.
SIMPSON pressure washers are reliable and easy to use. In addition, they have a wide range of features that make them perfect for any job, big or small.
SIMPSON is the brand for you if you're looking for a pressure washer that can handle anything you throw at it.
Last update on 2023-09-21 / Affiliate links / Images from Amazon Product Advertising API
What we like
Heavy-duty

On the first or second pull, the engine starts.

The engine is extremely powerful

The washer is equipped with pneumatic tires, making it simple to transport.
What We Don't Like
There is no onboard soap tank.
What's in the box
The Pressure Washer Unit

Five quick connect nozzle tips (0°, 15°, 25°, 40°, and soap)
Features and Specifications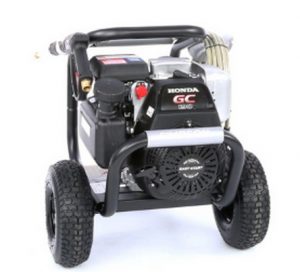 It has a built-in hose and gun storage.

Detergent remains in the siphoning tube.

10-inch pneumatic premium tires allow for flexible mobility.

The unloader system consists of a thermal relief valve and an unloader.

5 Quick connecting nozzles are also included (0,15, 25, 40, and soap nozzle).

A high-performance residential engine from Honda (GC190)
Now I'm starting my technical analysis of the Simpson MSH3125. I've read a few other assessments on this model, and it appears that most people are pleased with it.
Performance: Great for small and big jobs
The power of this tool is what makes it unique. The water pressure is 3,200 PSI, and the water flow is 2.5 GPM (gallons per minute). 
This tool can clean most surfaces. For example, we used it as a pressure washer for our house, and we could remove the mold on some of the siding panels easily. 
Note: If you want more power than this unit, you should look into gas-powered models.
Durability: Strong and sturdy
Getting the GPM and PSI is one thing, but how well-built is it? Well, this model has a steel frame that makes it durable. It also features a high-quality axial pump for long-lasting performance. 
The nozzles are brass so they won't rust easily from all those chemicals you'll be using. In addition, they can adjust the flow and pressure of the water with just a push of a button.
Fuel Life: Sufficient for most tasks
The Honda GC190 engine powers the MSH3125. The MSH3125 has a 0.5-gallon tank, which is not the biggest, but it's enough to do most jobs. We used it to pressure wash our house, and it lasted for about two hours.
Design: Improvement Needed!
The MSH3125 is a powerful power washer that can clean even the most filthy messes. However, this device is a mixed bag, with some fantastic features and others that may be annoying.
Price: A fair price for heavy-duty performance
Although you can find some cheaper models, this one is not that expensive compared to other similar power washers on the market. Currently, it's selling at around $400.
Maintenance: Easy and simple
Like any other power washer, you'll need to change the oil after a while. But make sure you are using Simpson's formula for this machine because it is designed for Simpson products.
Noise Level: Quiet for a gas-powered model
The MSH3125 is not that loud, but it's noisier than your average power washer. The Honda engines are known for their relatively quiet operation, and Simpson uses them in their products. 
We took measurements from both close to the machine and 25 feet away. The pressure washer's operator will be exposed to an ear-splitting 93.2-decibel level. The sound level drops to 80.1 decibels at a distance of 25 feet, which is still quite loud.
Warranty
Five-year limited frame warranty

90-day limited accessory warranty

2 Year limited HONDA consumer engine, 1-year limited pump, 5-year limited frame, and 90-day accessory

One-year limited pump warranty
Customer Support: Should be better
When it comes to customer service, Simpson sucks. Do not expect a quick solution to clashes and difficulties with most of its technical support outsourced. To get the missing components back, you must wait two weeks.
 You might connect with someone who doesn't understand what you're telling them but isn't particularly interested in assisting.
Experts' View
The SIMPSON MegaShot MSH3125 Pressure Washer is a powerful machine that can handle almost any cleaning task. However, a few poor design choices may be annoying.
SIMPSON Cleaning MSH3125 Assembly
The machine is a durable power washer that will last for years. In addition, it comes partially assembled, so you don't have to worry about putting it together. 
Just follow these steps instead:
Step 1: Attach the handle until it snaps into place
Step 2: Add oil before firing it up. Although SIMPSON provides the oil with the power washer, we provided the fuel. The oil is kept in a soft bag that can be damaged if mismanaged. 
Note: Overall, assembling took us around 15 minutes.
How to Run SIMPSON Cleaning MSH3125
Now that your machine is set up, it's time to start cleaning! Here's a quick guide on how to use the pressure washer:
Step 1: Fill the gas tank with unleaded gasoline.
Step 2: Snap in the high-pressure hose.
Step 3: Connect the garden hose to a water source.
Step 4: Open the water source.
Step 5: Pump the handle a few times to prime the pump.
Step 6: Squeeze the trigger on the gun to release the pressure.
Step 7: Set the choke lever to the "run" position.
Step 8 Pull the cord to start the engine.
Step 9: When finished, release the pressure from the hose by squeezing the trigger on the gun.
Step 10: Set the choke lever to the "off" position.
Step 11: Turn off the water source.
Step 12: Unplug the garden hose from the pressure washer.
Step 13: Remove the high-pressure hose from the machine.
Tips: Store the power washer in a dry, safe place.
What Can You Clean with SIMPSON Cleaning MSH3125
Competition: It is up to you to decide
Last update on 2023-09-20 / Affiliate links / Images from Amazon Product Advertising API
Last update on 2023-09-17 / Affiliate links / Images from Amazon Product Advertising API
Last update on 2023-09-22 / Affiliate links / Images from Amazon Product Advertising API
MSH3125 is a great power washer for cleaning big and small messes! This tool is a durable machine that should last you years if well maintained. 
I hope that my Simpson MSH3125 Review has assisted you in making an informed decision.
Are Simpson power washers made in the USA?
Answer: Simpson Industrial Pressure Washers feature high-quality construction and components to ensure years of dependable performance, even under extreme conditions. 
All models in the Simpson Industrial Pressure Washer Series are made in the USA. These pressure washers deliver exceptional power and versatility, making them perfect for a wide range of cleaning applications. 
From residential to industrial settings, Simpson pressure washers have a reputation for being tough and Dependable. America's Choice for Pressure Washers Since 1961!

Who manufactures Simpson power washers?
Answer: FNA Group. The group is a world-class manufacturer with a high 8-figure yearly revenue. They are dedicated to providing the best power washers on the market, and their team of experts is here to help you choose the perfect machine for your needs. 
Shop Related Products 
Last update on 2023-09-21 / Affiliate links / Images from Amazon Product Advertising API
Last update on 2022-07-10 / Affiliate links / Images from Amazon Product Advertising API